OSLO (NRK): The Chinese world star is so excited about Norwegian Eldbjørg Hemsing that he has written a piece for her.
Written by: BÅRD SKAR/NRK
Published Sep 21 2018 at 09:42
Updated 16 Oct 2018 at 12:35
Aftenposten's music reviewer calls it a sensation.
Tan Dun is an international star, one of the biggest names in music today.

says Maren Ørstavik to NRK.
Tan Dun is in Norway on the occasion of the Ultima festival, which takes place in Oslo. He directs the Oslo Philharmonic, and has written all the music at the concert which took place on Wednesday.
One of the pieces is specially written for the Norwegian violinist.
That he wrote a work for Eldbjørg is not only a huge honor for her, it is also a feather in the hat for Norwegian music life. With this he takes Norway and Norwegian music out into the world.

says Ørstavik.
Who is Tan Dun?

Tan Dun, does that sound familiar? Maybe. Many have heard his music without being aware of it. In addition to writing opera and orchestral music, he writes film music.

In 2001 he received the Oscar for best original music in the movie "Sneaking tiger, hidden dragon". The music for the 2008 Beijing Olympics was also his.

The composer was born in 1957.

Read more about Tan Dun.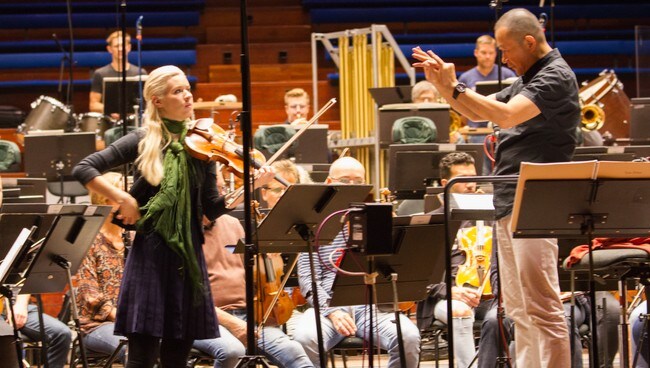 NRK will attend the rehearsals this week and met Eldbjørg Hemsing and Tan Dun for an interview before the concert.
It wasn't the first time they met – Tan Dun (61) and Eldbjørg Hemsing (28) have known each other for many years.
A world-renowned New York-based Chinese composer and girl from Aurdal in Valdres – how does that relate?
"The Princess of Norway"
In 2010, the World Expo exhibition was held in Shanghai, China. (This was before the Nobel Prize for Liu Xiaobo soured the relationship between Norway and China).
Eldbjørg represented Norway at a large joint concert entitled "Love Concert", Tan Dun's native China.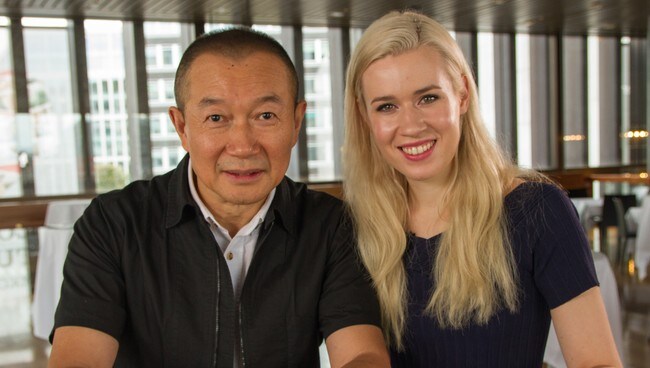 Eldbjørg talks about a magical meeting. The collaboration created so much creative energy that they have done several projects together since.
Tan Dun takes it longer:
Eldbjørg is famous in China. We call her "The Princess of Norway". In China, people only know Ibsen and Grieg. When they learn that she is from Grieg's homeland, the Chinese get the impression that Norway is as beautiful as this girl.

Tan Dun
And adds with a smile that at that time in 2010, many people thought that Eldbjorg's fantastic music could help even more Chinese to eat Norwegian salmon.
The peaceful shaman
The violin concerto Tan Dun has written for Eldbjørg Hemsing is called "Fire Ritual", and is a memory of the victims of the war. Every warrior. Old rituals from the east and the west, told through the music, will awaken the soul of the dead and contribute to no more wars.
Tan Dun has given the Norwegian violinist the role of Shaman of Peace.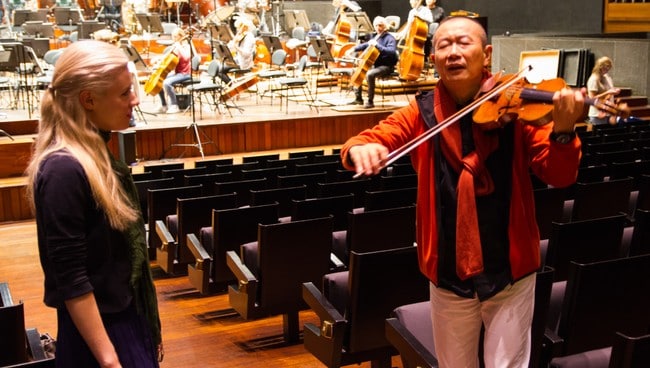 To deliver this message we had to have one of the most peaceful people we could imagine. Eldbjørg was a simple choice. For Chinese who have followed her since the Expo, she represents the beauty and belief that the memory of the victims of war can create a future without war, says the composer and conductor.

Tan Dun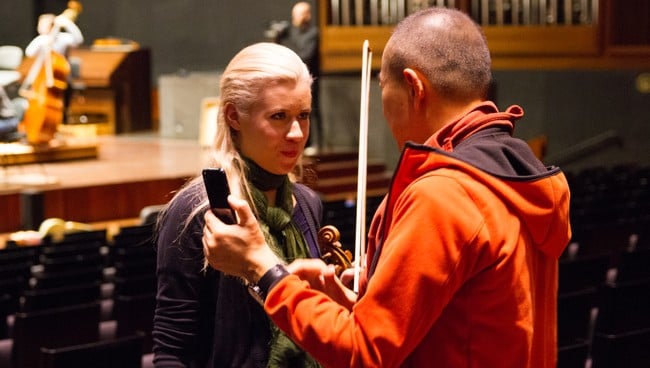 FACTS ABOUT: Eldbjørg Hemsing

– Born in 1990 in North Aurdal.
– Played violin since she was five years old.
– Debuted as a soloist with the Bergen Philharmonic in 2001.
– Won Virtuos and was a Norwegian participant in Eurovision
Young Musicans in 2008.
– Is now one of Norway's most sought after soloists internationally.
– Two new CD releases in 2018. Brilliant reviews.
SOURCE: nrk.no/ I Kina kalles hun «Prinsessen av Norge»
You can see an interview from "NRK Hovedscenen" here: